Conferences can be a crucial adjunct to the success of your business, the proper organization of which is essential to a firm's image. In order to make such corporate events a great success, it is essential to hire a high-end conference room that offers an entire range of conference facilities besides business and other secretarial services.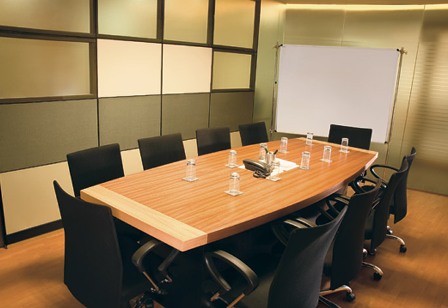 The kind and type of facilities depends greatly upon the nature of the conference; so it is important to bear in mind that different types of conferences demand different types of facilities. While various types of venues like hotels, historic places, museums, auditoriums, conference centres etc. could be availed for holding conferences and important meetings, business centres are the most suitable option for holding business meetings as they have all the requisite facilities for making a meeting successful.
We at Vatika Business centre offer conference and meeting rooms besides virtual and serviced offices. Our conference rooms are equipped with all sorts of state of the art facilities that can cater for any corporate event; from small presentations to international AGM's or for any business looking for excellent facilities at affordable prices.
VBC offers conference rooms appropriate for a variety of settings such as u-shape, classroom, boardroom, round table and more. We organize your event in the most
hassle-free way and that to from beginning till the end. Besides perfect location, we offer conference rooms accommodating six to twelve delegates.
The modern conference facilities offered by VBC help businesses achieve their objectives by helping organize things in a hassle free way for the attendees, contributing hugely to the success of any business.
Hiring a conference or meeting room that is already equipped with technologically advanced facilities can be a real money saver and can allow conducting a conference or meeting in a hassle-freeway. All this can mark a better impression on clients and colleagues.
Vatika Business Centre offers a comprehensive range of conference room facilities that makes it a wonderful place for the organization of meetings and conferences.
In order to make your conferences or meetings successful, it is advisable to hire a conference room that is equipped with state-of the art facilities that are flexible as well as cost-effective.
For more information about VBC conference rooms, log on to www.vatikabusinesscentre.com to have a glimpse at the amazing conference centre facilities that they have.