While COVID-19 [Coronavirus] continues to impact people's lives and organizational operations around the globe, we want you to know that Vatika Business Centre remains committed to its goals of meeting the commitments and responsibilities by providing all the pertinent services and support.
We have been delivering services over the years which have helped enterprises keep their business operations running smoothly nationwide. In these difficult times as well, we realize that it is significant that we make it possible for enterprises to continue their operations seamlessly and help them through every unique issue that they face. This time too, we have got you covered!

From dedicated support services to maintaining your office space while you are away, we help enterprises mitigate all the work relate troubles.
Let us have a close look at the critical support services being provided by Vatika Business Centre:
– Maintaining & Monitoring Your Office Space – Our team understands their duty and regularly undertakes all that is needed to make sure that you face no trouble or business disruption. Our professional staff is dedicated to ensuring regular monitoring and maintenance activities without fail.
– Providing Strong Business Support Services – We have six major Business Support Services to fuel your business continuity amid these important times as well, namely – Taxation Services, Registration & Legal Compliances, Concierge Services, IT Support, HR Support, and Marketing Services, thus offering zero hassle functioning to the clients.
– Securing & Protecting Your Assets Diligently – We have a stringent team of Security Personnel in place with the help of whom we keep a close check on your office assets and the entire premise too.
– Providing Regular IT Support – Our IT Support professionals are always on their toes to assist the clients with every issue related to IT & networking, helping them to work without any glitch.
– Undertaking Regular Sanitization at the premises – Our professionally trained staff is regularly involved in office sanitization and cleansing procedures while you are away. Cleaning is one of the most important activities and hence ensuring this procedure paves the way for a healthy work environment. We undertake the procedures with industry-acclaimed products.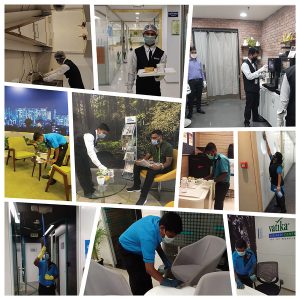 – CCTV Monitoring to keep an eye on your Premise – While you are away our professionals are always keeping a close eye on your assets and premises. Our seamless 'round-the-clock' monitoring makes us class-apart.
– Regular Checks of UPS & Battery Room – Battery rooms are provided for backup and uninterruptible power supplies (UPS). Without regular monitoring and maintenance, UPS battery systems may experience enduring issues. VBC team carries out regular maintenance activities to ensure uninterruptible power back-up for clients.
– Monitoring of Server Room, Switches and Router – The team ensures effective monitoring procedures and regular checks making certain that every client does not face any hassle, with respect to server rooms, switches, and router.
– Ensuring Routine Maintenance of AC plants, DGs, RO plants, Fire Panel and other Equipment – Our team is always vigilant with its upbeat monitoring features of all the AC plants, DGs, RO plants, Fire Panel and other Equipment, so that our clients do not have to face any issues in the long run.
– EPABX Extensions for providing Call Forwarding Support – We are always ready with a robust call forwarding system in place that enables you with opportunity to route important calls on your mobile phones directly, hence maintaining zero disruption communication.
– Maximized Pest Control– Pest control activities beget a bug-free work atmosphere. Maintaining the same is always on our priority list. The maximized pest control measures that the team undertakes ensure that the premise is free from bacteria, fungi or viruses and other infestations, in the suites, aisles, walkways, and cafeteria.
These Critical support services during COVID 19 delivered by Vatika Business Centre are just the tip of an Iceberg and we can proudly say that our team continues to meet the commitments and responsibilities by mitigating challenges during these times.
About Vatika Business Centre:
Vatika Business Centre – the only ISO 9001:2015 certified Indian Business Centre providing ready-to-use Serviced Office Spaces, Co-working Spaces, Meeting Rooms, Virtual Offices and Enterprise Solutions to match your business requirements. We hold presence across 8 prominent cities in India with 20 business centre including New Delhi, Gurugram, Noida, Pune, Bangalore, Hyderabad, Chennai and Mumbai. Vatika Business Centre has become one of the finest providers of high-quality office spaces covering 0.6 Million sq.ft. area and providing 6000+ seats. All the centres are furnished with premium fit-outs and ergonomically designed furniture. It is the provision of cutting edge technology such as – HD Video Conferencing, IoT enabled Board Rooms and meeting rooms, Digital Flipcharts, High-Speed Internet, App-based locks, Voice command based board rooms besides flexibility to upsize and downsize that has made VBC one of the most sought after office solution providers.